Meet the Colchester Dental Group Staff
SUE
My name is Sue and I'm a graduate of the State University of New York at Farmingdale and I have been practicing dental hygiene with the Colchester Dental Group for several years. I have been a member of the American Dental Association and Connecticut Dental Hygienist Association and have held several offices on both the state and local levels. I enjoy taking continuing education courses to stay current in the latest advancements in my profession.
I have two grown children and I live in Mystic with my husband, son and daughter. Aside from dental hygiene I enjoy spending time with my family, boating, reading and going to the beach.
---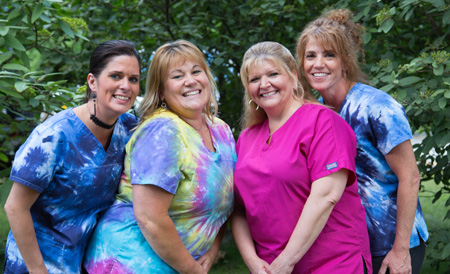 SHERYL
Hi, my name is Sheryl. I graduated from the University of Rhode Island with a BS degree in dental hygiene. I'm an experienced dental hygienist and have been with the Colchester Dental Group for many years. My operatory is decorated with a fish theme. When I'm not at work I enjoy gardening, reading, doing puzzles, walking, and spending time with my family and cats.
---
BARBARA
Hello, my name is Barbara. I had the joy and honor of sitting chairside with Dr. Park for 17 years up until his retirement in December of 2015. Now, I am on a new adventure with Dr. Babinski as his primary chairside assistant. It gives me great pride and pleasure creating an efficient and enjoyable dental experience for our patients. We pride ourselves on delivering exceptional dentistry here at the Colchester Dental Group. I have been dental assisting for over 30 years, and I love what I do.
On a personal note, I have a large family that I love spending time with. I also have two awesome labs: my chocolate lab Titan and my black lab Bo give me and my family much happiness. And our great hens give me breakfast daily. My husband Bob is the rock of our family, and I am very proud and happy to be his wife. Photography is a joy for me capturing wildlife as well as capturing the joy of families.
I'm looking forward to meeting new friends and making your dental visit pleasurable while delivering dentistry that I am proud of: only the highest quality dental care with a lot of TLC.
---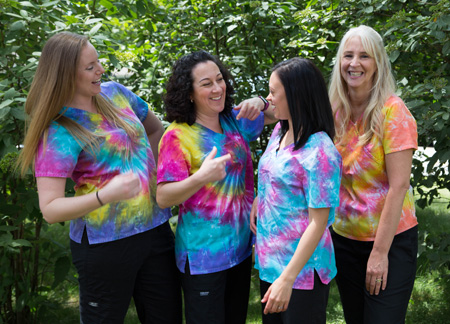 BECKY
I'm originally from Rhode Island and have lived in Salem for over 20 years with my husband, Wayne. We have two daughters, Emily and Jaime, and many pets! I love to spend time with my family and friends, walking with my yellow lab, Lacey, skiing or snowboarding and just being outdoors.
I started as a Patient Coordinator at CDG in 2007 and as of January 2016 I was promoted to Office Manager. Since joining the Colchester Dental Group, in 2007, my position has taught me so much about the importance of proper oral care. The devotion to make sure our patients receive the best care and the education to make their oral health the best is truly admirable. I value the standards our staff strives to achieve and delivers. I am enjoying the interaction with my coworkers and patients. I never imagined so many nice people could be found in one place!! The relationships that develop with each visit are invaluable. I am honored to be part of such a wonderful group.
---
ROBYN
My name is Robyn and I'm a graduate of the University of New Haven with a Bachelor of Science and the University of Bridgeport with my Masters in Dental Hygiene. It is an honor and an inspiration to work with such a great team at the Colchester Dental Group who are committed to the highest quality of dentistry and dental health.
Outside of work, I enjoy piano, gardening, running and spending time with my wonderful family.
---
JULIE
Hi. I'm Julie. I am a floating dental assistant, and I have a part of the CDG family for over five years. I love what I do.. not just because of who I work for, and the great people I work with, but I especially love helping our wonderful patients.
I grew up in Colchester and now live in Oakdale with my fiance and our three kids. Outside of work, you will find me with my family since we are always on the go. Any time the weather is nice enough, we just want to be outside together.
---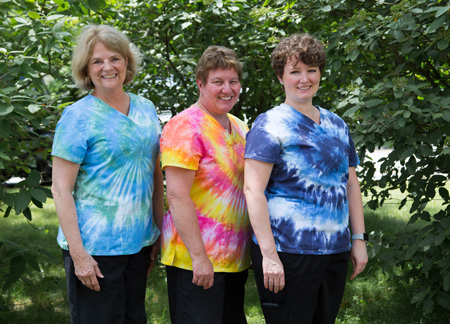 JESSICA
Hello! My name is Jessica, and I joined the Colchester Dental Group in the summer of 2016. I am x-ray certified and my experience spans over 24 years in both front desk and clinical.
I have two wonderful kids of whom I am very proud. My daughter is studying at UConn, and my son is finishing high school. I enjoy kayaking, flea markets, reading and just being with family, friends and my cat!
I am so very happy to be a part of such a wonderful group of people. This office is genuinely caring and concerned; not just about your oral health but about the patient as a whole.
---
STEPHANIE
Hello! My name is Stephanie! I am a Certified Dental Assistant here at CDG. I sit chairside with Dr. Zase everyday and couldn't be more thrilled! I have been a dental assistant since 2000. I studied Music Education and Performance at Western Connecticut State University, so you will often hear me humming around the office! I started out in the dental field right out of college at a lab making crowns, veneers, and dentures and loved it so much that I decided to continue doing what I love by making smiles healthy and beautiful!
I live in East Hampton with my husband, 2 sons, and cat named Jezzibelle. I am also a yoga instructor with a passion for health and fitness and helping others reach their wellness goals. I also love to crochet, read, and meal prep. I look forward to seeing you soon!